Our guest blogger,  Vaishali Shah at Ananya Cards has kindly provided her expert advice on all things stationery!
As one of the most special and significant days in your lives, your wedding stationery must stand out, make a statement, and reflect your personality. The quality and choice of your stationery will speak volumes about your style and individuality to your guests. Uniformity of quality across all aspects of the stationery will give it a sense of harmony, consistency and class. When the theme, typeface and cardstock work together and incorporate elements that are meaningful to you, it creates an invitation that is totally bespoke and personal to you.
Every one of our Ananya collections is centred around detail, and we love creating stationery suites that take your breath away – designs where you discover something new every time you look at them. Whether it's through bespoke illustrations, specialist foil printing, unique wording, or unexpected hand-finished touches, we want our stationery to be so much more than that. We want our stationery to evoke feelings and to delight at every turn!
Where do you look for inspiration? Well, the best source of ideas on how to impress your guests are you, the bridal couple! It's all about you – what you share and love, your love story and what's important to you. The wedding invitation will then weave your favourite colour palette and design style into a theme that harmonises with all the aspects of the wedding.
Let's start with the save the date, a more informal announcement of the wedding. It's the first important glimpse your guests will have of the wedding, so you want to set the scene and get your guests excited.
Save the dates can be fun, light-hearted and humorous in tone; there are many creative and imaginative ways to make them memorable and fun so your guests will not forget your date!
Here are a few suggestions of themes:
Travel
If you are having a destination wedding, you may want to choose a travel theme for your wedding stationery. The save the date could be a passport or a luggage tag which could become a keepsake for guests after the wedding. You could also have a card with an illustration of colourful suitcases piled on top of each other.
If it's a winter destination wedding, what about a ski pass as a save the date? Or a scratch off one where the destination is revealed only when the guest rubs the scratch off section? Great fun and imaginative as well!
Humorous
Your story can be illustrated as a comic strip with a few words describing where you met, how the question was popped, and when and where the wedding is taking place.
Photographic
This can be a photo of you as babies or young kids – and can look very cute! It could be a series of smaller snapshots – a story of you from babies to school kids, to adolescents to the present day. Adorable!
Movie Theme
Have your guests eagerly anticipate your special day with a save the date card featuring a favourite movie. A picture of you two dressed in suitable attire, with your names, and date emblazoned on the save the date card is a fabulous way to make the announcement.
The Invitation
Whether you opt for contemporary or traditional, you have a wealth of choices and options available to you. Stationery that has creative use of colours, fonts and textures can create a wow factor. The words you choose, how you express them and the font you use, can all be a way to reflect your personality; it's all about being creative, using imagination and having fun with it.
If you have a motif or flower that has a special significance for you (a rose or lotus, for example) your stationery designer can incorporate the scent or flower in your individual design. It could be a profession or hobby you share (e.g. love for travel or wine) or children and pets you love – they can all become a source of inspiration and tell your story to make the invitation personal and unique to you.
In setting the tone and theme for your wedding day, you may want to look at your venue as inspiration, especially if it has a special significance for you. Commissioning a custom made illustration for your invitation suite will capture its importance for your guests and make a beautiful keepsake for you, too. You can also incorporate any colours native to the country, location or time of year into your stationery.
There is an amazing array of finishing touches available to make your stationery completely personalised and unique to you. At Ananya we've worked with deckled edges, pearls, gold foiling, wax seals, sari fabric, Swarovski crystals, ribbons, embossed stickers, batik, and much more – and of course, there are many different printing technique options available to you. Texture can also be an excellent way to give your invitations a particular 'feel' – like opulence through laser cutting, romanticism through silk ribbons and modernism through Perspex.
Wax seals also offer a multitude of possibilities, like having a bespoke wax stamp monogrammed with your initials, infusing the wax with spices and flavours (for example, using rose petals, saffron and tea) and mixing colours that harmonise with the theme.
Multicultural weddings
Multicultural weddings provide a plethora of inspiration to draw upon. Bringing together cultures in wedding stationery design is an opportunity to create something that is as exciting as it is unique. If you are having a multicultural wedding, your invitation enables your guests to get an insight into your heritages when you creatively combine aspects of your individual cultures into the stationery, making your invites personal and meaningful.
At Ananya, we create stationery for couples who want something authentic and original that is inspired by their cultural heritage.
Here are some suggestions on how to do this:
Let the symbols, traditions and colours of your culture be the inspiration for your design and weave those aspects into the stationery. You can use a swatch of fabric you love (e.g. a tie dye Bandhani or African inspired batik) or a motif such as a mandala, that has a particular cultural significance. When you use this theme throughout the suite of stationery, it will give it harmony and cohesion. At Ananya, we create modern designs which pay homage to traditions. We are all about mindfully bringing together cultures.
Have a wedding booklet to explain the significance of any symbols used, and any unusual facts that may relate to the wedding ceremony for the benefit of guests unfamiliar with the cultural nuances.
Use monograms to personalise and give a touch of elegance to multicultural wedding stationery. While traditionally monograms used initials, nowadays symbols, flowers and animals are also being incorporated into a monogram. We have created quite a few stationery suites using elephants, for example.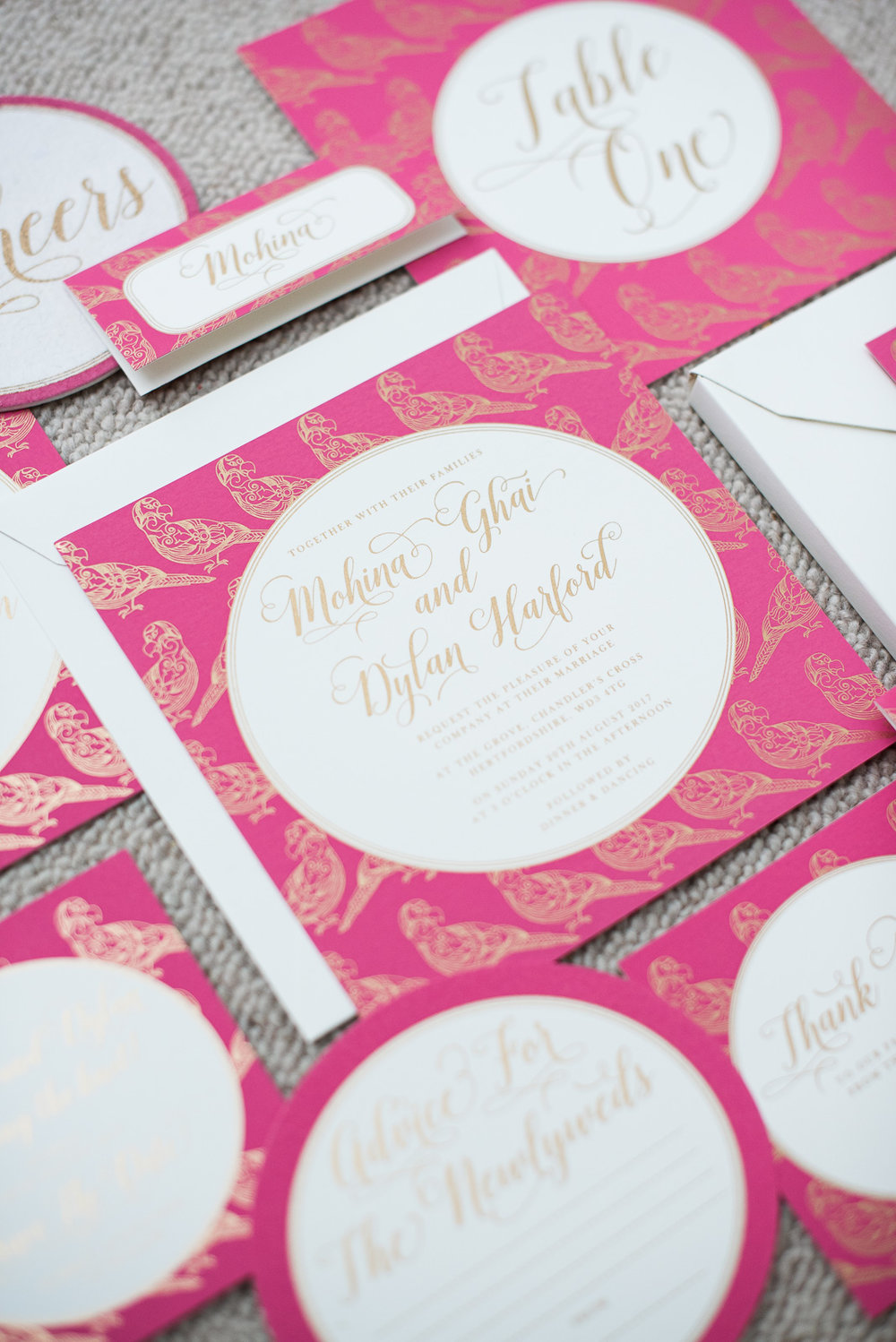 There are many imaginative ways to display monograms for a special touch throughout the wedding. For an Indian wedding, it can be used in the mandap, for a Jewish wedding, it can be placed on the wedding chuppah, and for an English wedding, the monogram could be embroidered on the ring cushion.
For Hindu weddings, invitations usually have an image of Ganesh, the God that symbolises good luck and the removal of obstacles. To give the invitation a more contemporary look, the image of Ganesh can be made more abstract and stylised.
While motifs such as the lotus, paisley and peacock have traditionally been favourites for Hindu invitations, if you want to be different, why not use a parrot, which was considered a bird of love in ancient India and is said to represent conjugal happiness. Another option is an elephant, a symbol of prosperity, wisdom, majesty and grace. As a great choice for a beach wedding, how about a fish as a symbol? It is said to represent happiness and good fortune. Be original!
More ways to inject your personality into your wedding invites
Why not come up with your own dress code if fashion is important to you. Include requests – for example, ask your guests for their top songs for the dance floor.
Add a personal touch by handwriting the addresses on all the invitations and go that extra mile and order custom or vintage stamps. Add beautiful envelope liners that reflect your theme. Make the opening of the stationery even more exciting by adding boxes and layers of vellum.
Your wedding stationery is far more than just an invitation or a menu. Why not sprinkle some extra magic with elements throughout your wedding day like wine labels, coasters and tags for your personalised favours.
Whatever options you choose, it's very important to be consistent throughout the suite and focused on what's important to you. Your wedding stationery is an experience that's all about YOU. It can be as subtle or strong as you want it to be, and the sky really is the limit when it comes to inspiration and creativity.
Being a stationery house, for us, it is all about adding value, and really understanding our couples and what they want to achieve. Ananya means 'without equal' in the ancient language of Sanskrit and that is our mission – to create stationery that is unique and distinctly individual.
During the thirteen years we have been in business, we have loved helping and finding creative solutions to solve our couples' challenges – and it gives us great joy to do so! We can save you time by giving you expert advice on content, design, and quality, and making ourselves available to you when you need us – whether it's by email, Skype, phone, or in person. No matter how "creative" you feel you are, we can help you translate your concept into a beautiful design, either by choosing from one of our existing collections or offering you suggestions for something completely bespoke to you.
Not only can we bring to life your vision – we'll also do so by giving you complete peace of mind when it comes to the logistics. We have experience in large scale, high end, complex frameworks, so if you're unsure how to fit 500 people on your table plan or how to split invitations into four different events, we can help. Our Creative Director Vaishali is always on hand for advice, imaginative alternatives, or problem solving, to make sure your stationery is nothing less than perfect for you.
For further information, please contact Vaishali Shah at Ananya.
Tel: +44 (0)20 7242 1877 / www.ananyacards.com / info@ananyacards.com
www.facebook.com/ananyacards
Instagram: @ananyacards
Pinterest: pinterest.com/ananyacards
Twitter: @ananyacards